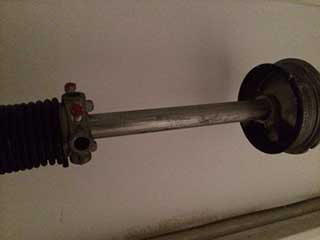 All garage door systems rely on a set of powerful springs to bear the weight of the panels. These strong hardware parts are designed to last for a long time, but the stress of continually raising and lowering a 150+ pound door every single day means they'll wear out over time. When one of these units breaks it can be very dangerous, as the door can slam down and hurt anyone who happens to be standing nearby. In addition to this, it often makes your door impossible to use afterwards; there's nothing more frustrating than a garage door that simply won't open. We think it's essential to recognize the signs of a weakening spring so that you can avoid this hassle, so here are a few useful ways to identify this issue.
Does The Door Squeak?
If your door makes a lot of noise whenever it moves, it might be a sign that its springs are wearing out. This is because they can't support the panels' weight properly, which puts a lot more tension on other parts of the system. If you have a large door with more than a single spring, one of the units might have worn out faster than the other. In this case, the door might even be slightly off-center, causing additional friction and wear.
Is The Door Shaking?
Your door should be held firmly by the springs, even when it's moving. If it's wobbling and bouncing, this shows that these components are struggling to support its weight. Keep an eye out for a door that sags noticeably as it moves, and when it comes to a stop, because it may well need a new set of springs.
Check The Door's Balance
If you suspect your garage door springs are wearing out, there's a simple test you can carry out. Disconnect the door from the opener and then open it halfway. The door should stay balanced and it shouldn't go up or down. If the door drops, then the springs have weakened. It doesn't necessarily mean that they will need to be replaced, as they can be adjusted and tightened instead, but it's important that you don't try to perform this task by yourself, as these tension-loaded components are still extremely dangerous. Give our team a call and let us take care of it for you.