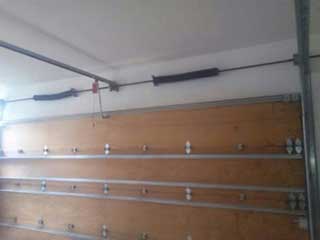 Regardless of whether your garage door springs are torsion or extension, they won't last indefinitely. These parts are under an enormous amount of tension each time the door is open or closed. This wear and tear can, over time, result in malfunction or even potentially dangerous breakage. Our highly trained professionals are readily available to put things right.
Don't Go It Alone
A garage is so much more than just a place to store our vehicles. We often use it for additional storage space as well as a gateway to our home. Therefore, a malfunctioning door is not just frustrating, but also a security hazard, particularly if a spring breakage is preventing it from opening and closing. If this happens to one or more of your springs, don't be tempted to try and repair it yourself. You could be endangering yourself and anyone else close by. Call one of our skilled technicians to do the hard work for you instead.
What to Look Out For
Just one broken spring is enough to render your door inoperable. Whether your door uses extension or torsion springs, it's important to monitor wear and tear. A worn spring can result in the door not opening or closing properly, and a wonky motion, which can also be dangerous. If you door uses extension springs, it's advisable to check either side of the door and look for any significant misalignment, breakages or hanging springs. Should you identify any of these issues, contact our team to get your door in working condition again quickly.
We Will Spring Into Action
To keep your home secure and your family safe, call our team at Garage Door Repair Lake Worth, FL. We'll be happy to talk to you about adjusting, lubricating or replacing your worn or broken springs. Contact us today!
Count on us for:

New Garage Door Keypads

Garage Door Roller Repair

Damaged Parts Replacement

Garage Door Transmitter Repair