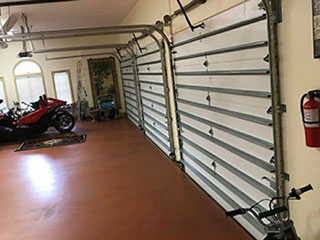 Regular upkeep is a necessity for any complex mechanical system, especially one as large and frequently used as your automatic garage door (or your manual one, if you don't have an opener). To keep the different moving parts in great shape, regular maintenance is required. That's one of the many different areas where our team can help you.
A Word About Safety
In order to ensure that your automatic door doesn't end up closing on you or any other person or object, the opener (which is what controls the automation of the system) uses a pair of photo-electric eyes. These safety sensors are installed opposite each other, on the lower ends of the tracks. If they become misaligned, they will fail to work properly, and may not detect an obstacle when they should, which could have catastrophic implications. Our technicians will test these units, realign them if necessary and make sure that their wiring and lenses are undamaged.
Potentially More Dangerous Issues
There are a lot of garage door parts that can pose a risk when mishandled, but none more directly dangerous than the springs. These units are loaded with a high amount of tension, and they can go whipping around when they break unexpectedly. To prevent this, we will check their condition, adjust their tension as necessary and even carry out the required spring replacement if we find that these components are very close to reaching their breaking point.
Maintaining Optimal Operation
In addition to the tasks mentioned above, as part of a garage door maintenance appointment, our experts will lubricate moving metal parts, like rollers, hinges and torsion springs, and ensure that their condition, as well as that of the cables and the tracks, is optimal. If we find some part has suffered some damages, we'll either repair it on the spot (if the issues are relatively minimal) or replace it with a new component that will be just as durable, or more so. Give our team at Garage Door Repair Lake Worth a call today and join other local homeowners who enjoy our regular maintenance service.

Garage Door Weather Stripping

24 Hour Garage Door Service

Screw Drive Opener Replacement

LiftMaster Chain Drive Lubrication