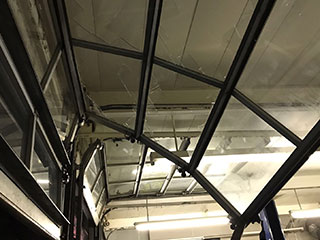 There are few mechanisms in your home as complex as your garage door. The system is made up of many interconnecting parts from rollers and cables, to tracks and springs. Understandably, there are a number of parts here that can malfunction. Gears are subject to wear and tear, springs can become overextended, and doors can come out of alignment. Our local technicians have the knowledge and skills not only to identify the cause of the problem, but also to find a speedy solution to the issue you're dealing with.
An Open And Shut Case
Worn or broken door springs are one of the most common problems garage door owners have to face. Your springs have the task of bearing the door's weight and essentially enable it to open and close. It's little wonder that they are susceptible to heavy wear and tear over time. Their lifespan will depend on a few factors such as quality and type, as well as how professionally and how often they are maintained. Therefore, it's essential to contact our team if you notice any signs of weakness. Bearing in mind that a typical door weighs between 200-300 pounds, it's essential that garage door repairs are only undertaken by professionals to limit the risk of injury.
Identifying The Root Cause
The opener is the brain behind your door's operation. When something malfunctions, it can be challenging to identify the root cause. Whether the problem is due to faulty wiring, problems with the circuit board, or issues with the safety sensors, our team is on hand to help. We are used to working with all of the major brands including Genie, Chamberlain, and Linear.
Get Back On Track
Depending on the severity of the damage, a bent track or panel can hinder the opening and closing of your garage door. Not only will a broken or dented panel prevent smooth operation and potentially spoil the appearance of your door, it can also compromise its security. Our skilled technicians can remove dents, and if necessary, carry out an entire on-the-spot panel or track replacement to get your door in full working order again.
Call Us Today
Whatever your problem, our skilled team at Garage Door Repair Lake Worth is on hand to help - our friendly technicians have all the tools and skill needed to get your garage door back on track. Get in touch today!
We also offer:

Galvanized Torsion Spring Installation

Automatic Door Opener Replacement

Commercial Garage Door Replacement

Overhead Door Repair & Installation